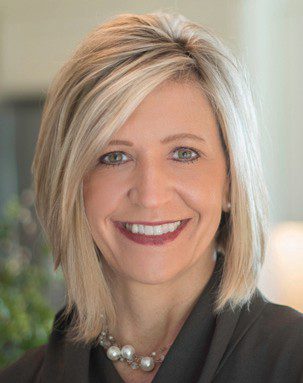 TREASA DOLAN HAS THE U.P.P.E.R hand when it comes to creating interiors for discriminating homeowners and business owners throughout Southwest Florida. To that end, she Understands her clients' wants and needs, Personalizes spaces to reflect the personality of the owner and Punctuates them with a statement piece or color, Enthusiastically makes the process exciting for everyone involved, and always does the Research to find the best products for every project.
She's been doing all of the above as a designer at Bonita Springs-based Vogue Interiors since the spring of 2021, which is when she moved to the area from St. Louis, Mo., bringing with her 23 years of experience in the residential and commercial design and construction/renovation industries.
When/how did you know you wanted to be an interior designer?
When I was young, I would frequently rearrange the furniture in the bedroom I shared with my sister. For my birthday in eighth grade, I was thrilled to redecorate my own room with all new furniture and finishes. I have always had an eye for color and space; I physically feel it when something works perfectly. My mom was a big influence in regard to art and design. She took me to see Gloria Vanderbilt when I was too young to even know who she was, and I came home with an autographed pillow. My mom also taught me how to sew window treatments and pillows, paint walls and trim, and install wallpaper. I was amazed by her talent and her gumption.
Tell us something about a favorite project. What made it so great?
I recently worked with a couple in Naples who wanted a style for their home that I had never encountered before: Japandi, a hybrid of Japanese and Scandinavian aesthetics. I did my research to get a good feel for the style and started pulling the design together. At presentation time, the clients loved everything I had selected. It was a "nailed it" moment.
What is your favorite room/place in your own home?
The guest room, which was inspired by a piece of art with soft blush and sand tones. The walls are white, the furniture finish is sandblasted white, the bedding accents are a light blush, and the area rug is blend of light gray, cream, and blush. It is simple and pretty. Both our daughter and my mom claim it to be their room when they come to visit. It makes me happy when people feel comfortable in our home.
Tell us three things you consider must-haves for a great room/family room where people gather?
A surface to place a beverage (cocktail table or pull-up table), comfortable upholstered pieces, and a pretty area rug that is soft underfoot.
What product do you use that often surprises clients who are new to Southwest Florida?
Many clients new to our area are surprised to learn that luxury vinyl wood plank flooring is a popular and practical choice here. Its durability, fade-resistance and waterproof qualities make it a smart choice to stand up to our humidity and intense sun while providing the same warmth of real wood flooring. In some cases, contractors recommend installing this material directly over existing tile, which saves money and a dusty, dirty demolition process.
Remodel or start from scratch? Do you have a preference?
I really enjoy the challenge of reinventing a space, making it work better and making it something completely different. That said, I am also enjoying working with new home developers here in Southwest Florida. It is amazing to take a blank box and give it a personality. Every house deserves its own unique feel, so I never rehash the same design; I start fresh and give each house its own special attention. I look forward to more opportunities like this.
Any trends you especially love today?
I like that the color trend is warming up a bit, allowing for more bits of nature by way of color and texture. Although white is still front and center here in Southwest Florida, we can introduce some earthy tones that are warm and serene to accent the crisp whites. I picture that like laying a fresh white sheet in a forest after a spring rain shower.
What overriding quality do you bring to your clients?
I consider myself very fortunate to have worked with home developers and contractors through my 23 years in design. I view every trip to a jobsite as an opportunity to learn something new, and I use that knowledge to help my clients understand certain aspects of construction and why things have to be done in certain ways. I mentioned earlier that I have painted walls, hung wallpaper, and sewn pillows. I have also changed light fixtures, set tile, and installed baseboards. I consider this hands-on experience to be valuable as well as something that sets me apart from others.