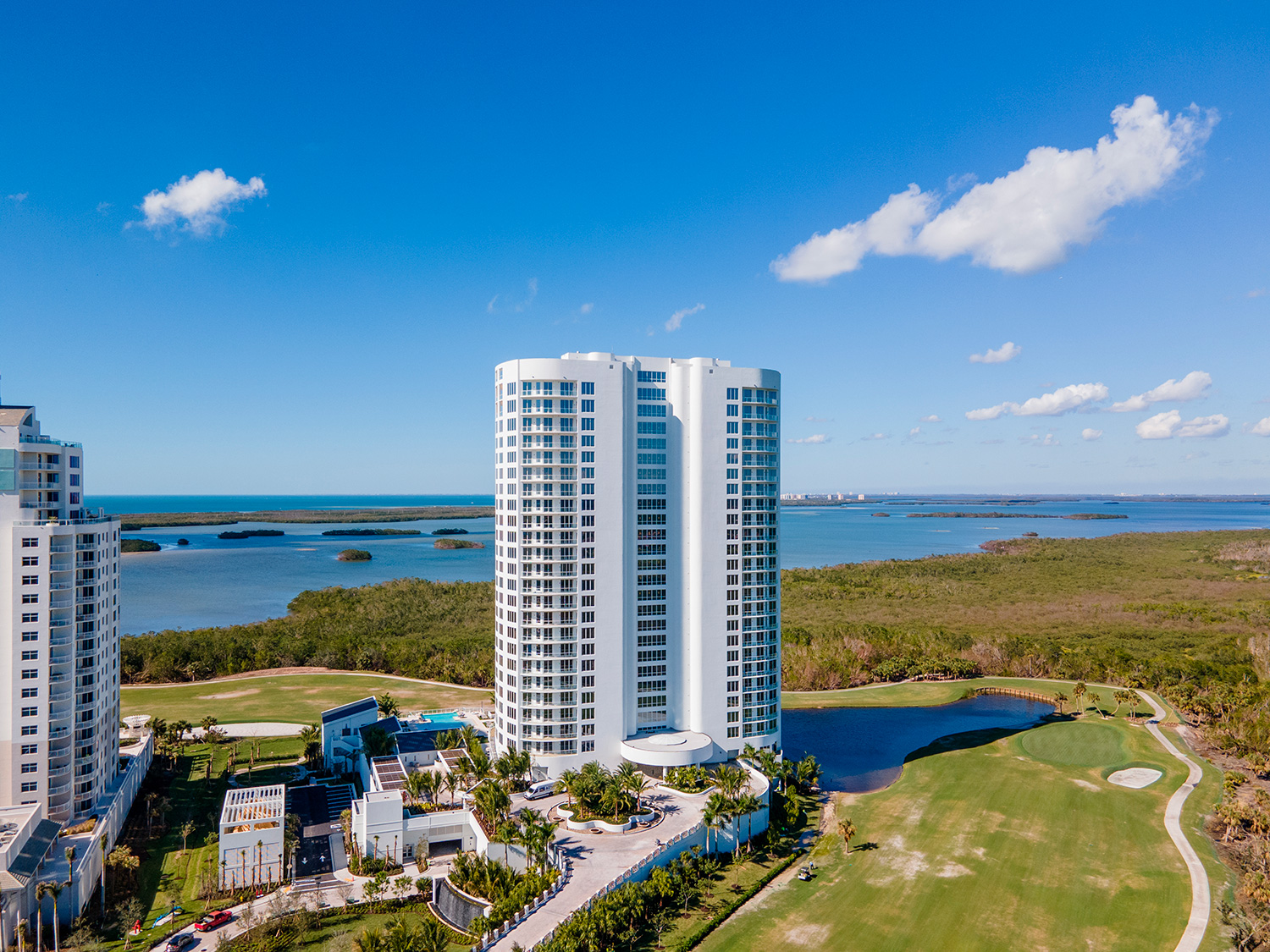 Debbie DeMaria, ASID, IDS is creating the interior for a penthouse residence at Omega, a 27-floor luxury high-rise tower built by The Ronto Group within Bonita Bay. The residence features 6,400 square feet under air, outdoor terrace areas measuring 1,865 square feet, a 1,485 square foot private roof top terrace, and 11-foot four-inch ceilings. The floor plan includes a private elevator lobby, a living area with a huge great room, sit-down bar, a linear cornered fireplace, a spacious dining area, and an island kitchen. The plan also features a den, five bedrooms, and five-and-a-half baths.
Debbie has created a contemporary look for the penthouse. The soft taupe/white background tones in the main living area will be softened through the use of darker taupe leather and espresso finishes. The design's furnishings will feature fabrics in a mixture of aggregate colors. Other accents will mimic the colors of the spectacular Gulf sunsets and include creams, greys, taupes, blacks, whites, and silvers. The entire residence will be finished with light taupe hardwood flooring.
The exotic elevator foyer will establish the tremendous visual appeal of Debbie's design. A pair of carved wooden chairs with a black lacquer finish will feature cream-toned chevron fur seats. The designs on the backs of the chairs will compliment a natural grass wall covering with a free-formed texture, including a printed texture at the top done in creams, greys, butterscotch, silver, and soft charcoal. A console will feature a black stone top and an eye-catching oval opening finished in a soft champagne tone that will play off an oval shaped recessed ceiling. Debbie will also incorporate an artistic free-formed LED lighting fixture that will contrast the ceiling's oval shape.
Once inside the residence, the eye will first be drawn to a spectacular view of the Gulf of Mexico and then to a serpentine-shaped bar and sitting area that will be one of three gathering places in the sprawling living area. The bar will feature a mirrored back wall with a hidden television, an exotic tiger wood base with an illuminated crystal top, tiger wood cabinetry, and barstool seating for ten. The sitting area adjacent the residence's tall pocketing sliders will be an ideal gathering place for viewing the sunsets that are Omega's hallmark. The sitting area will include five swivel chairs finished with a soft indoor/outdoor blegouet fabric, a circular 50 x 50-inch cocktail table with a stone top that features black, dark taupe, and cream tones, and a textured wool area rug with a contemporary pattern in black, cream, and taupe.
In addition to the bar and the sitting area, the great room provides another place where the owners and their guests can enjoy one another's company. A stunning accent piece will include an artistically designed base set on a black pedestal and a driftwood top and compliment a large free-form art piece. A pair of dark taupe leather sofas and two recliners in a deep espresso leather will face the television wall. The sofas will feature very wide arm backs that will be approximately 10-inches deep allowing guests to sit on the arms and backs of the sofas. The sofas will also include accent pillows with an agate pattern that will carry a variety of strong accent colors. A unique square cocktail table will feature a stained somberwood top and bottom and a recessed center section painted in a warm silver pearl tone. A circular table with a weathered mocha-stained top will be placed between the recliners and include a door and a surround also painted in the warm silver pearl. The built-out television wall will be finished with tile that will be accented by charcoal-toned Corian walls that will be 24-inches wide and set on either side of the television. The Corian walls will feature a lake pattern that appears to be a free-flowing wave.
The fourth gathering place is situated in front of the linear cornered fireplace and offers a more intimate setting with two wood framed chairs with a dark-skinned animal fabric and a cocktail ottoman. Because the fireplace is cornered, it can also be viewed from the bar or from the great room. The fireplace will be finished with the same tile that will be used on the television wall.
A stunning dining table with seating for ten will be positioned adjacent to the pocketing sliders that open to the home's terrace overlooking the Gulf of Mexico. The glass table will be done in blacks and espresso with cream veining. The table sits atop a pewter-toned modern titanium base. Heavily textured metallic silvers and butterscotch with charcoals and taupes will be used on the backs of the dining chairs while the seats will be finished with cream leather.
The double island kitchen will feature Cambria counter surfaces and two-tiered cabinetry. The island bases and lower cabinetry will be finished in a light taupe while the upper cabinets will be open door for displaying a variety of items. The upper cabinets will be finished in a deeper tone. Three swivel barstools at the outer island will have a silver pearl finish with a leather-like fabric. A circular table in the breakfast area will have a dark finish with pewter-toned accents and espresso legs. The inside back and seats of the breakfast table chairs will be an espresso suede with cream suede on the outside.
A den off the bar area will include custom built-ins with a light charcoal finish. The wall covering will be done in a fabric-backed cork material. The den will also feature a television, a pair of chairs in a textured animal print chenille, two ebony leather office chairs, an accent table with two rotating stone tops, and a textured area rug in charcoals, light creams, and greys.
In the bluish, slate-toned master bedroom that will include a swirl of grey, butterscotch, and espresso accents, a metal art piece treasured by the client will be incorporated into the light suede upholstered headboard wall finished in creams. A build out with mitered corners around the art piece will give it additional dimension. Lighting fixtures done in glass and metal will be suspended over rounded espresso night chests flanking the bed. A settee that extends to the bed's footboard will be finished in a tone-on-tone fabric. Opposite the bed, a custom, very narrow furniture piece with a television in the center will include displays on either side to mask the edges of the television as well as storage at the very bottom. The ends of the furniture piece are finished in contrasting espresso and silver tones. In the master bath, a massive shower enclosure includes a tub and a door leading to a private master bedroom lanai area. The vanity cabinetry will be finished in taupe with subtle Cambria countertops.
The residence's massive terrace will feature a gas grill, a dining area, and an assortment of gathering chairs. The private rooftop terrace will include glass railings, a hot tub, a built-in fireplace, and a television/lounge area with six deep lounge chairs and a cocktail table. A spacious outdoor kitchen will include barstool seating.
Founded in 1979, Vogue Interiors has earned numerous national, regional and local awards. From corporate offices at 24520 Production Circle in Bonita Springs, Florida, Vogue Interiors provides design services to residential and commercial clients in the United States and abroad. Visit Vogue Interiors online at vogueinteriors.com.